Mākslai un biznesam ir daudz kas kopīgs. Daudzos gadījumos viņi atbalsta vienādas galvenās kultūras vērtības: radošumu, prestīžu, mužību, inovāciju un mantojumu. Tas dod pamatu rezultatīvai sadarbībai. ArtLaw.club bija lieliska iespēja parunāt ar Katie Kennedy Perez, ArtFlow Agency dibinātāju, kas savieno mākslas pasaules pieredzi un zināšanās ar zīmoliem un sabiedrībām, kas vēlas pietuvināties mākslas pasaulei.
ArtFlow Agency ir tikko izdevusi jaunu "ArtFlow Art x Brand Report 2018", kas ir pieejama šeit: https://www.artflowagency.com/artflow-report *
*ArtLaw.club priekšvārds
Intervija tiek publicēta oriģinālvalodā
- How did you arrive at the idea of founding ArtFlow Agency? What is your background?
- ArtFlow was created after working for more than 15 years in the international art market. I classically trained in art history and then worked in galleries before joining Christie's, then Phillips auction houses as Contemporary Art specialist. In 2013, I set up my art advisory firm working with private collectors. We increasingly worked with corporate clients and I realised that there was serious need for dedicated art world expertise to guide brands in their cultural engagement.
- ArtFlow helps entrepreneurs to build innovative and creative art engagement. Tell us please a bit more about how the process works.
- We generally begin by looking at the brand or company's DNA. What are their values, what story do they wish to share, what is their heritage? From there we look at their current objectives: what type of audiences do they wish to communicate with, in which context and in which geographical regions.
This may seem like a strange way to approaching art engagement - but in fact it is the best way. The art engagement strategy must reflect the company values and speak to the audience that we define together. From there, we use the ArtFlow Cultural Brand Strategy Guide to define specific projects or a global program.
- What are the mostly common ways of Art&Brand collaboration? Please name the examples.
- At ArtFlow we break art x brand collaboration into two approaches : Product and Patronage. Product is related to commercial activity, for example the Jeff Koons x Louis Vuitton handbag collaboration, Juergen Teller's advertising campaigns for Marc Jacobs or the Illy 'Art Collection' Coffee Cups. Whereas 'Patronage' is a non-commercial, philanthropic approach. This can take the form of art prizes, for example the Kleinwort Hambros Emerging Artist Prize we are launching in the UK this month. Other examples, include art commissions, artist residencies, museums sponsorship or the creation of non-profit institutions such as the Louis Vuitton Foundation in Paris.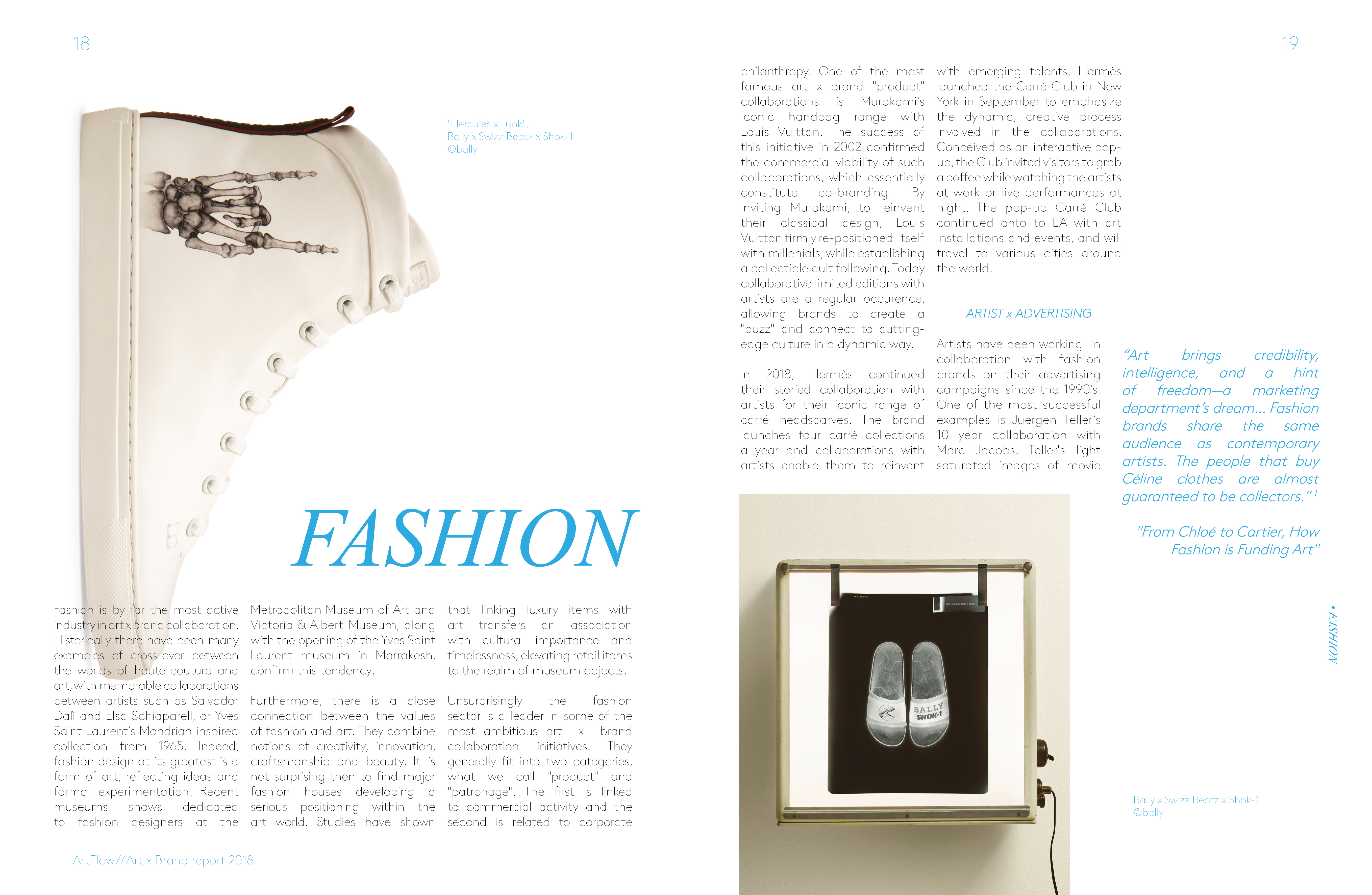 - What are the main benefits of such collaboration (monetary interest, prestige, or something more)?
- The benefits of art x brand engagement are linked to brand positioning, consumer loyalty, visibility and philanthropic engagement. A strategic art engagement program can help heritage brands reposition towards millennial audiences, open new geographical territories in a culturally sensitive manner, create emotional connections with consumers, communicate on core values and develop community/staff orientated initiatives.
- Why do brands tend to associate themselves with art (what is the motivation underneath)?
- Luxury brands naturally tend to associate themselves with art as there is a transfer of positive values such as creativity, timelessness, prestige and craftsmanship. Yet an association with art can also relate to technology industries where innovation is a key value or the banking industry where supporting the arts is an important part of philanthropy and value-identity. While youth-focused brands, such as Supreme or Nike, associate with art to connect with cutting-edge culture.
- Are young/individual artists more likely to collaborate with brands than more conservative players (for instance, museums)?
- Not at all, there is no rule. Today hierarchies are no longer relevant and collaboration is key. We see very well established artists such as Takashi Murakami or Yayoi Kusama working with brands, as well as major cultural institutions such as the MOMA. There generally tends to be what we call a 'brand fit', the importance of the artist/institution is equivalent to the prestige of the brand.
- What is the motivation of museums to have such a commercially-oriented collaboration?
- Museums are increasingly faced with budget cuts, rocketing prices on the art market and competition from private institutions. It will therefore be important for them to seek innovative commercial collaborations in the future. The Van Gogh Museum in Amsterdam is very open about seeking commercial product collaborations to further awareness of their museum and support the institution financially.
- Is this collaboration generally strictly regulated or are the artists given enough creative freedom?
- The most important part of the process is the choice of artist. They should share, or at least understand and appreciate, the values of the brand or company. The brand and artist should meet and explore whether the can work together through open dialogue.
Of course, as for any project there can be specifications, a pre-defined budget and guidelines. But from that point on, the artist should be able to express themselves freely. This is what will guarantee the success of the collaboration.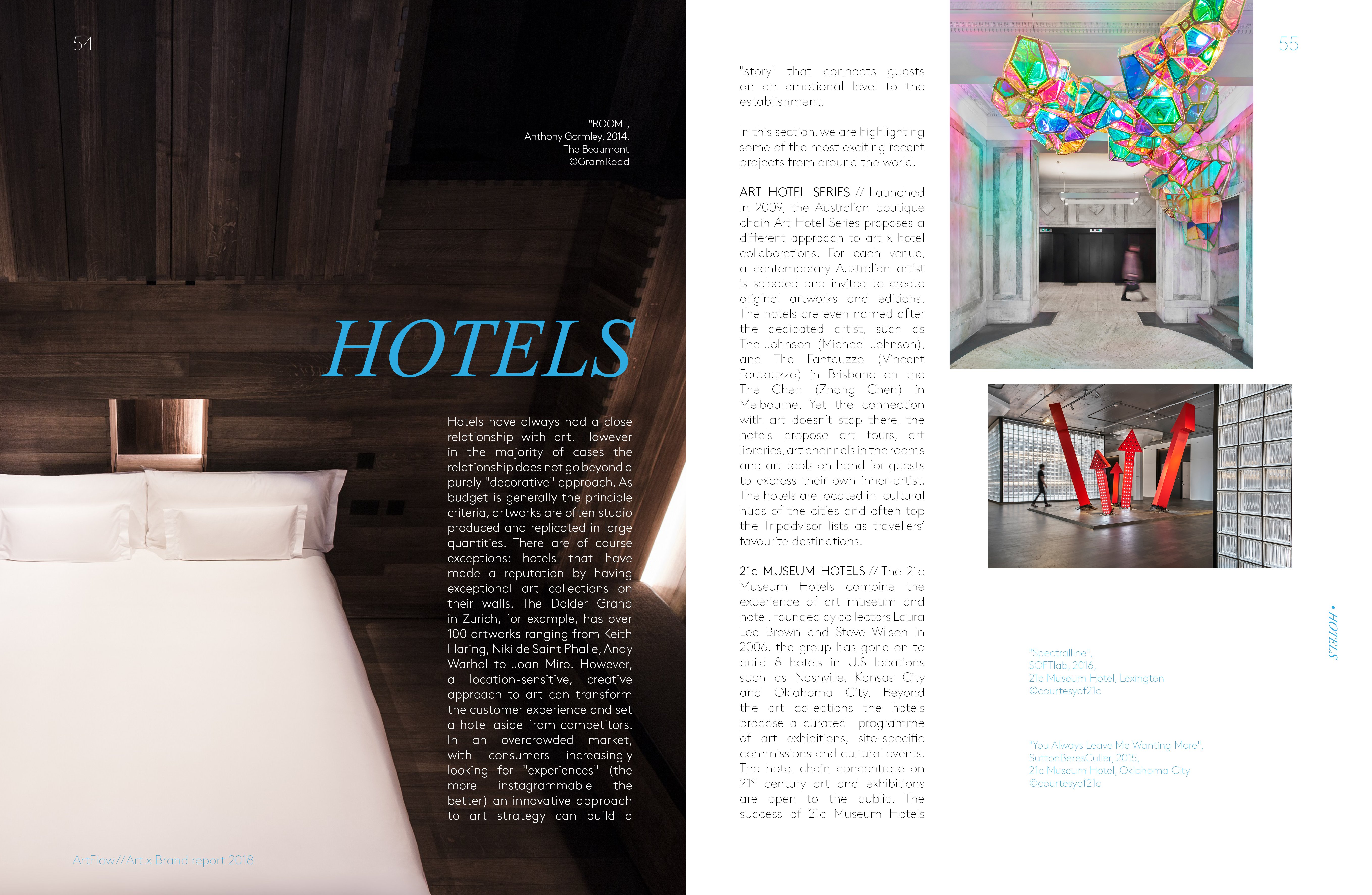 - Can you call this type of collaboration a trend of the last several years (a hype) or is it an organic development of marketing strategies in the long-term?
- There has certainly been a marked increase in the quantity and quality of art x brand collaboration over the last 10 years. In my opinion this is due to a change in the way we communicate as a society in the digital era. Products are becoming less important than brands and consumers are seeking companies that reflect their values and provide experiences. The 'cultural' brand is increasingly taking position alongside 'lifestyle' brands as a way of creating meaningful connections with consumers.
And inversely the art world is looking to expand beyond the borders of a commercial system that is increasingly demanding and market orientated. Art x Brand strategies can provide new platforms for artistic output reaching audiences who may never have set foot in a gallery. While philanthropic initiatives provide support and opportunities for artists they may never have received otherwise.
- What are the main challenges or hidden dangers (if any) of such collaboration?
- The main challenge is making something that feels genuine and authentic. If the project does not make sense within the brand or company it may fall flat. Furthermore, the choice of artist or partner institution is key. The 'I have a friend who is an artist' strategy of certain decision makers is a risky move. Brands should work with art x brand experts, like ArtFlow, to be sure that their strategy hits the mark from an art world perspective.
- Are there any selections for commission where artists of the Baltics/Scandinavia can participate? What is the best way to get to know about these opportunities?
- Stockholm based Absolut Vodka is currently running a competition for the design of a new bottle, however this is open to artists internationally.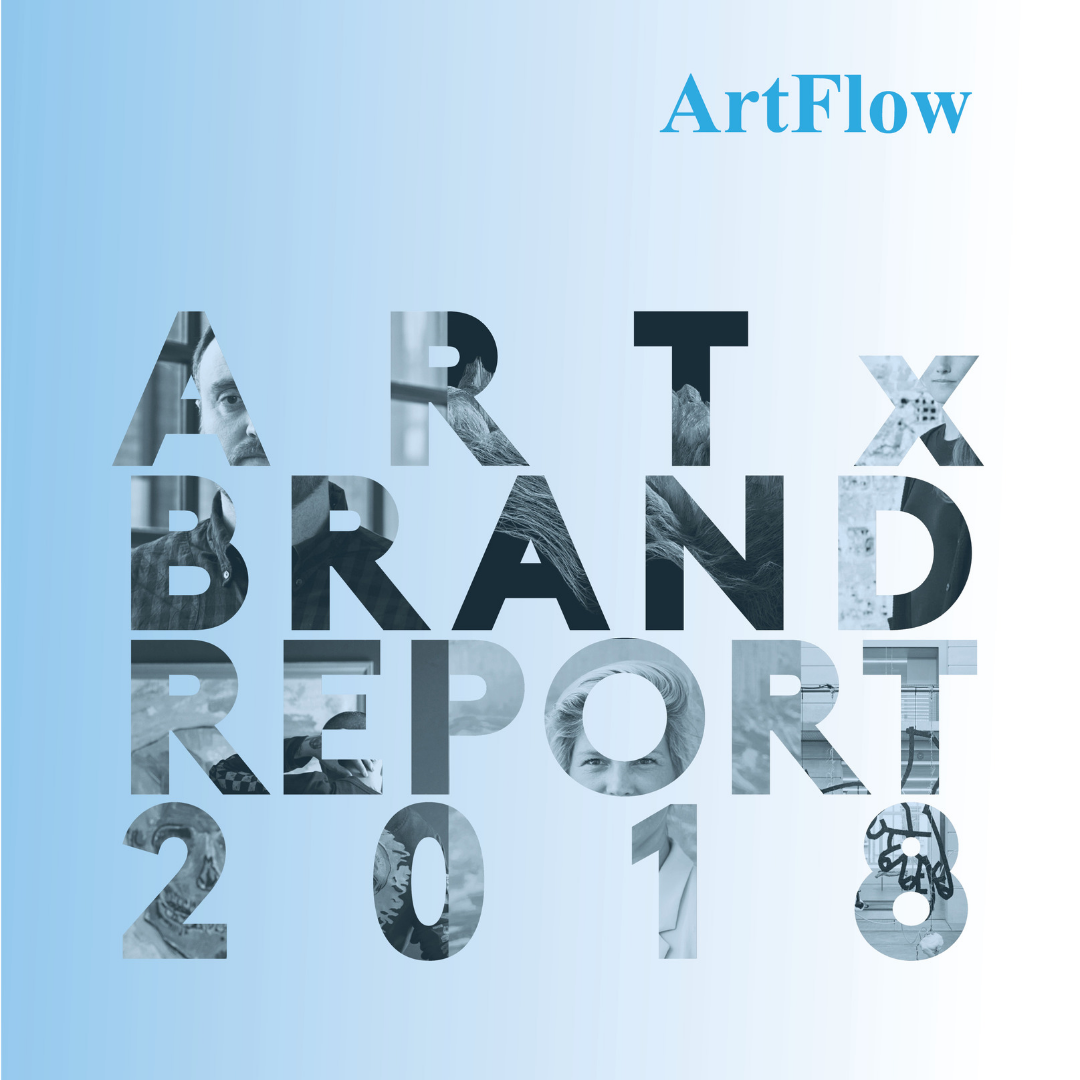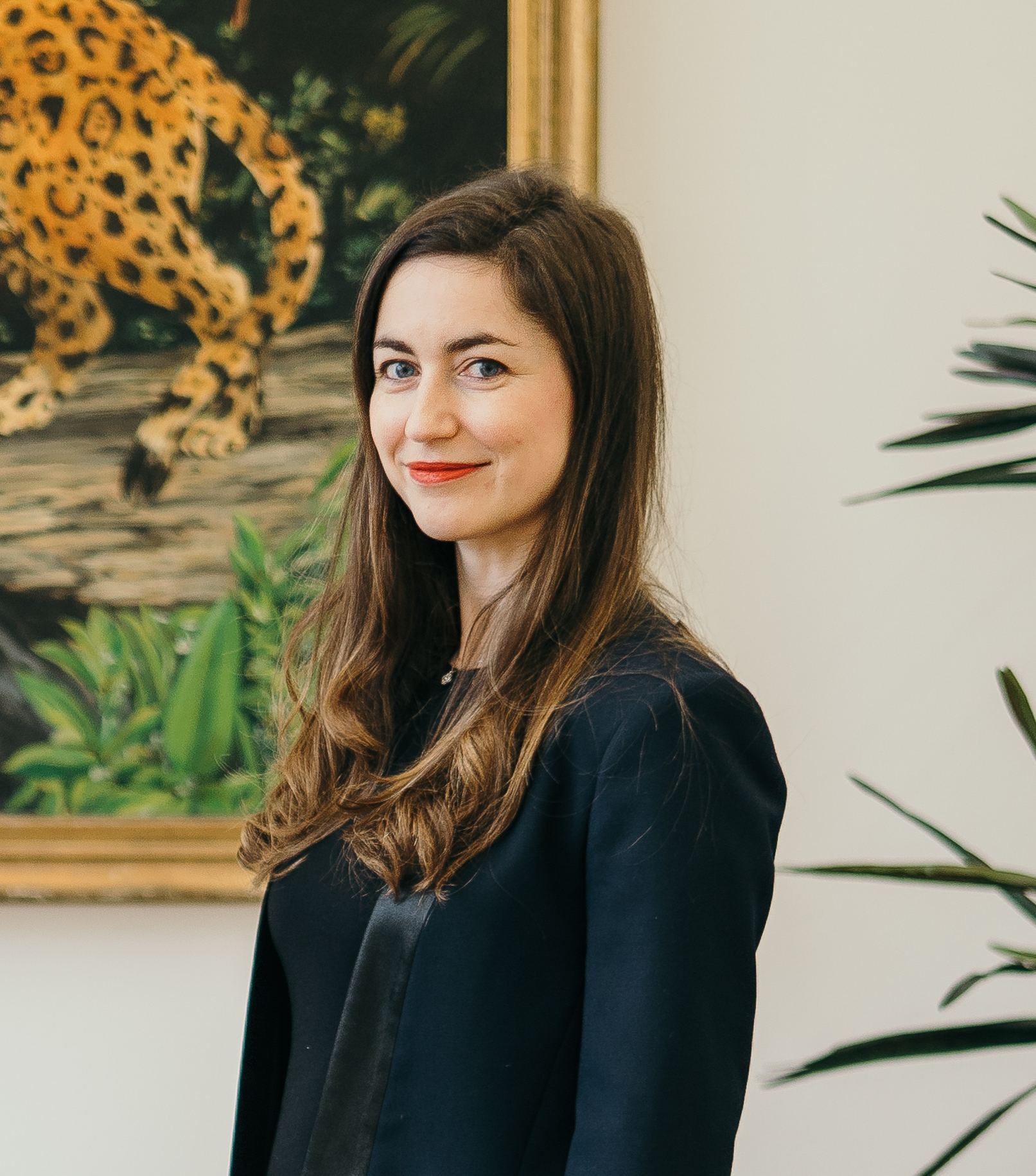 Bildes no ArtFlow Agency arhīva